RGC Public Lectures - Genetics, DNA Therapy and Personalized Medicine Novel Cancer Treatments
Two leading scholars have been invited to deliver public lectures organized by the Research Grants Council on 29 July 2017 (Saturday). Details of the lectures are as follows:
| Topic | Speaker | Time |
| --- | --- | --- |
| Rare Diseases and Undiagnosed Diseases Program | Professor Ching-wan Lam (Professor of the Department Pathology of the University of Hong Kong) | 2:30 pm - 3:30 pm |
| Non-invasive Prenatal Testing: from Dream to Reality | Professor Dennis Yuk-ming Lo (Li Ka Shing Professor of Medicine and Professor of the Department of Chemical Pathology at the Chinese University of Hong Kong) | 3:30 pm - 4:30 pm |
Venue: Lecture Hall, Hong Kong Science Museum (Location Map)
Language: Cantonese
Free admission on a first-come, first-served basis.

For enquires, please contact us at 2524 3987 or [email protected].

First Session
Topic: Rare Diseases and Undiagnosed Diseases Program
Speaker: Professor Ching-wan Lam
Time: 29 July 2017 (Saturday) 2:30pm - 3:30pm

Brief introduction:
Diagnostic Odyssey refers to an extraordinary delay of years between the disease onset and the time final diagnosis is established. Diagnostic odyssey is mostly due to diagnostic challenges because of the rarity of the diseases. There are 7 000 rare diseases affecting 300 million people worldwide. It is estimated that about 10 million people in China have rare diseases. Professor Lam will give a lecture titled "Rare Diseases and Undiagnosed Diseases Program" to explain that using clinical whole genome sequencing and whole exome sequencing approaches, genetic pathologists can end diagnostic odyssey through identification of disease-causing genes in families with rare diseases.

About the Speaker:
Professor Ching-Wan Lam is a geneticist and registered specialist in Pathology with 25 years experiences in rare disease research and diagnosis and has over 200 publications on this subject. He pioneered the first territory-wide newborn screening program for inherited metabolic disease in Hong Kong in 2014. His research interests include various aspects of rare diseases. Professor Lam has succeeded in identifying the molecular and metabolic basis of 200 different genetic/rare diseases, with many the first time identified in Chinese/worldwide populations. He identified the MECP2 gene as the first disease gene for non-syndromic autism spectrum disorder (AUTSX3; MIM #300496) and non-specific X-linked intellectual disability (MRXS13; MIM #300055) in 2000. The medical and life science community has recognized the importance of MECP2 as a disease gene for neurodevelopmental disorders by awarding the investigator identified MECP2 as a disease gene for the much rare Rett syndrome (RTT; MIM#312750) The Shaw Prize in Life Science and Medicine in 2016. His work on autism has been incorporated in the formulation of an international guideline for etiologic diagnosis of autism, i.e., The American College of Medical Genetics 2013 clinical practice guideline. Professor Ching-Wan Lam is an Editor of Clinical Chimica Acta, an official journal of The International Federation of Clinical Chemistry and Laboratory Medicine.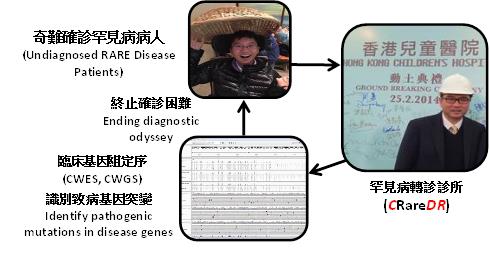 Second Session
Topic: Non-invasive Prenatal Testing: from Dream to Reality
Speaker: Professor Dennis Yuk-ming Lo
Time: 29 July 2017 (Saturday) 3:30pm - 4:30pm

Brief introduction:

Prenatal testing is an established part of modern healthcare. However, conventional invasive methods for prenatal testing are associated with risks to the fetus. For many years, scientists around the world have been dreaming about the possibility of non-invasive prenatal testing. Professor Lo will deliver a talk titled "Non-invasive Prenatal Testing: from Dream to Reality" to share his journey of over two decades from a medical student entering the field to the discovery of non-invasive prenatal testing technology. He will also discuss some ethical, social and legal issues associated with this revolutionary technology.





About the Speaker:

Dennis Lo is the Li Ka Shing Professor of Medicine and Professor of Chemical Pathology of The Chinese University of Hong Kong. He obtained his undergraduate medical training from the University of Cambridge and his Doctor of Medicine and Doctor of Philosophy degrees from the University of Oxford. He discovered the presence of cell-free fetal DNA in maternal plasma in 1997 and has translated this discovery into a new platform for non-invasive prenatal testing which is now used globally. He has received numerous awards and honours for his research, including elections to the Royal Society and the US National Academy of Sciences, and awards of the Future Science Prize in 2016 and the King Faisal International Prize in 2014.

Fetal genome sequencing from plasma