Timothy CLARK
Provost
Singapore Management University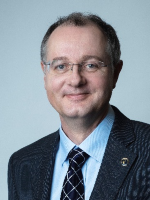 Professor Timothy Clark is the Provost at Singapore Management University. Prior to his current appointment, he was the Pro-Vice-Chancellor (Social Sciences and Health) and the Professor of Organisational Behaviour at Durham University in the United Kingdom. At Durham University, he undertook a number of roles including serving as the Chair of the Board of Studies in Durham University Business School, the Dean of Graduate School and the Dean and Deputy to the Pro-Vice-Chancellor (Education).
Professor Clark is a former Chair and President of the British Academy of Management and a Fellow of the Academy of Social Sciences and the British Academy of Management. He was made an inaugural Academic Fellow of the International Council of Management Consultancy Institutes in 2013 and has been the Vice-Chair of the Economic and Social Research Council's Training and Skills Committee.
Professor Clark's research focuses on understanding the role and nature of management consultants and management gurus in the diffusion of management knowledge. He has published numerous books and articles in leading journals on these topics.