Sara BOOTH
Director, Academic
Online Peer Solutions Pty Ltd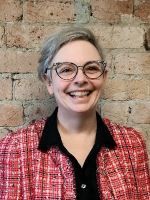 Dr Sara Booth, previously from the University of Tasmania, has oversight of all academic quality activities with Online Peer Solutions Pty Ltd (trading as Peer Review Portal). Her areas of expertise include assessment, course review and benchmarking, academic quality, organisational reviews and policy development.
Some examples of Dr Booth's sector work from 2019 to 2020 include:
a national review, involving 22 higher education providers, on two key themes: annual course reviews and academic integrity;
a global review on student success (Academic Advising, First Year Transition and Retention, Student Wellbeing and Safety) with 17 higher education institutions from 6 countries;
an institutional review in partnership with Nottingham Trent University to audit academic programmes focused on employability at the Higher Colleges of Technology in the United Arab Emirates (UAE), which was undertaken across 16 campuses to align with the UAE Skills Future Framework;
a cross-institutional review of assessment, involving 200 subjects across 33 institutions in 2018 and 140 subjects across 17 institutions in 2019, with Australian independent higher education institutions;
an institutional review of assessment policies, processes and programmes at Asia Pacific International College to meet the regulatory requirements of the Tertiary Education Quality and Standards Agency;
a cross-institutional review on student wellbeing and safety, teaching and professional development, assessment moderation and academic integrity with 31 independent higher education institutions across Australia;
sector-level review of National English Language Teaching Accreditation Scheme Assessment Cycles (2014-2019) involving schools, vocational education and training, self-accrediting institutions, and universities; and
an external review commissioned by the University English Centres Australia, a peak body in university English language centres, on assessment policies and processes across 20 universities and their direct entry programmes as well as externally review writing assessment involving 60 assessors.