Phil CARDEW
Deputy Vice Chancellor (Academic)
Leeds Beckett University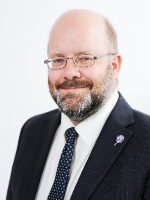 Professor Phil Cardew is the Deputy Vice Chancellor (Academic) at Leeds Beckett University and a Principal Fellow of the Higher Education Academy (HEA). He has worked at a senior level in three universities in the United Kingdom (UK) over the past 15 years, as well as taking an active part in institutional review and development, with the Quality Assurance Agency for Higher Education, the Tertiary Education Quality and Standards Agency in Australia, the Oman Academic Accreditation Authority, the Hong Kong Council for the Accreditation of Academic and Vocational Qualifications, the Bahrain Quality Agency and the Commission for Academic Accreditation in the United Arab Emirates.
Professor Cardew has also led developmental work for the British Council in Kuwait, Qatar, Saudi Arabia and Palestine and has supported over 15 universities in the UK with training events, review preparation, and staff development during the past 12 years. He was the programme leader for HEA's Deans Development Programme and has been a Teaching Excellence Framework assessor and panel member for Humanities for the past four years.
Professor Cardew's academic background is in medieval literature and culture, with a research focus on the Icelandic Sagas. He is a visiting professor at the Institute of Medieval Studies, University of Leeds.