Margaret SHAFFER
Michael F. Price Chair of International Business
The University of Oklahoma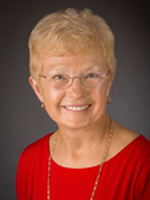 Professor Margaret Shaffer is a Professor and the Michael F. Price Chair of International Business at the Michael F. Price College of Business at The University of Oklahoma (OU).
Before joining OU, Professor Shaffer was the Richard C. Notebaert Distinguished Chair of International Business and Global Studies at the Sheldon B. Lubar School of Business at University of Wisconsin-Milwaukee. Prior to relocating to the United States of America, she lived and worked in Hong Kong for 11 years as a Professor of Management at Hong Kong Baptist University and The Hong Kong Polytechnic University, where she was the Co-director of their Doctor of Business Administration Program.
Professor Shaffer is an active researcher in the areas of global employee mobility and cross-cultural experiences. She has published more than 60 journal articles, book chapters, and conference proceedings. In her current position, Professor Shaffer teaches international management courses at all levels (undergraduate, masters and doctoral), and she is involved in the international business programme at OU and in organising and leading study abroad trips.
Professor Shaffer has been involved in various quality assurance activities. From 2006 to 2011, she was an external examiner for the BBA Programme at City University of Hong Kong. Since 2014, she has been an external examiner for Multimedia University in Malaysia. She has been on two accreditation panels for the Hong Kong Council for Accreditation of Academic and Vocational Qualifications. She was also a panel member for the Research Assessment Exercise conducted by the University Grants Committee of Hong Kong in 2014.