Jeremy BRADSHAW
Pro-Vice-Chancellor (International & Doctoral)
University of Bath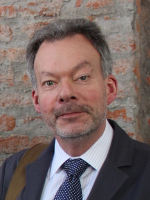 Professor Jeremy Bradshaw gained a MA in Zoology from the University of Oxford in 1981 and, following a year in industry, was awarded a DPhil from the same university in 1985, based upon research carried out in Sir David Phillip's Laboratory of Molecular Biophysics. After a one-year postdoctoral fellowship, he took up his first teaching post in the Department of Biochemistry and developed a research programme in biophysical studies of membrane-active peptides. He has published over a hundred papers, articles and reports, mostly based on research carried out at large-sale international facilities, such as the ISIS at the Rutherford Appleton Laboratory, the Institut Laue-Langevin in France and the High Energy Accelerator Research Organization in Japan. He held a Visiting Professorship at Fuzhou University in China. He currently holds a number of guest appointments worldwide, including one at University of Tsukuba in Japan and one at Zhejiang University in China.
In 2003, Professor Bradshaw was appointed to the post of Director of Research and Graduate Studies at The Royal (Dick) School of Veterinary Studies. In 2007, he became the Head of the Graduate School of the College of Medicine and Veterinary Medicine at The University of Edinburgh, a post he held for two years, and was also the Chair of Molecular Biophysics, the Assistant Principal of Researcher Development and the International Dean of the College of Medicine and Veterinary Medicine at the University until February 2018.
From 2009 to 2013, Professor Bradshaw was the Director of Postgraduate Studies for the College and became the International Dean and Director of Quality Assurance at the same time. He became the Assistant Principal (Researcher Development) in 2013.
Professor Bradshaw is a Fellow of the Society of Biology and, formerly, chaired its Biomedical Sciences Committee. He has been a reviewer of the Quality Assurance Agency for Higher Education (QAA) since October 2010 and has conducted reviews in England and Scotland. He has also conducted a number of transnational education reviews for QAA, and has been a reviewer for the Academic Quality Agency for New Zealand Universities, and the Quality Enhancement Framework for Icelandic Higher Education.