Hugh McKENNA
Professor of Nursing
Ulster University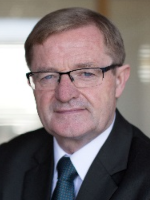 Professor Hugh McKenna (CBE, PhD, B.Sc(Hons), RMN, RGN, RNT, DipN(Lond), AdvDipEd, FFN RCSI, FEANS, FRCN, FAAN, MEA) is a general and psychiatric nurse by background and, until recently, is the Dean of Medical School Development and the Pro Vice Chancellor for Research and Innovation at Ulster University. He has over 250 publications, including 17 books. His latest book "Research Impact: Attainment, Achievement and Assessment" was published by Springer Nature in 2020. He was awarded the Commander of the British Empire and is a fellow of four prestigious organisations. In 2013, he was presented with the Outstanding Achievement Award by the Royal College of Nursing and in 2014, he was presented with a Lifetime Achievement Award at the Institute of Psychiatry. In a 2018 Government report, he was named as one of the 70 most influential nurses in the 70 years of history of the National Health Service.
Currently, Professor McKenna is a visiting professor in universities in Slovenia and Australia. He chairs the United Kingdom (UK)'s Research Excellence Framework Panel for Allied Health Professions, Dentistry, Nursing and Pharmacy. He has also chaired a clinical health research quality panel for the Swedish Research Council in 2018 and panels for the Hong Kong Council for Accreditation of Vocational Qualifications since 2014. Recently he received Honorary Doctoral Degrees from Edinburgh Napier University and the University of Maribor. In 2019, he was appointed to the Academia Europaea, founded as an initiative of The Royal Society to be the official scientific advisory body for the European Union. In March 2020, he was appointed as the Non-Executive Director of a large health and social care trust and as a Trustee of Alzheimer's Society in the UK.
Professor McKenna has written books and papers on quality assurance and audit and worked on the accreditation of courses for the UK's Nursing and Midwifery Council, General Pharmaceutical Council and General Medical Council.