Helen MARSHALL
Vice-Chancellor
University of Salford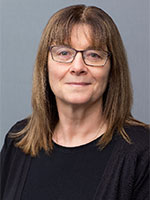 Professor Helen Marshall has led the University of Salford as the Vice-Chancellor since April 2015, having joined in November 2013 as the Deputy Vice-Chancellor.
Under Professor Marshall's leadership, the University has re-defined its role as an innovative, forward-looking, industry-focused institution by creating a 21st century version of the institution's industrial heritage. Professor Marshall's vision for a real-world approach to learning with a flexible, industry-informed and research-based curriculum has seen the University go from strength to strength.
Professor Marshall is actively engaged in the wider higher education sector through her role as a Board Member at the Higher Education Funding Council for Wales, continuing to undertake institutional reviews with the Quality Assurance Agency for Higher Education (QAA) and working with organisations such as the British Council on international academic projects.
Prior to joining the University of Salford, Professor Marshall was the Deputy Vice-Chancellor (Academic and Business Development) at the University of South Wales. During her tenure, a new curriculum in creative industries was developed, a Centre for Financial and Professional Services was established and a successful review and renewal of the law curriculum was completed. She also led on widening participation and was the Director for the Guardian award-winning Universities Heads of the Valleys Institute - a ground-breaking initiative backed by the Welsh Government to provide opportunities for local people and businesses to improve skills and qualifications by making learning accessible across the Valleys region.
Professor Marshall studied Law before continuing to postgraduate research in Corporate Merger Law at the University of Birmingham. She previously held senior positions at University of Central Lancashire and University of Cumbria, and gained extensive experience in quality assurance through a secondment to the QAA.