Denis WRIGHT
Emeritus Professor
Imperial College London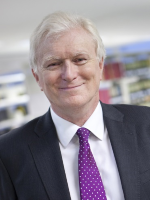 Professor Denis Wright is an Emeritus Professor in the Department of Life Sciences at Imperial College London in the United Kingdom (UK). He has managed research projects in the UK, Spain, Greece, North and Sub-Saharan Africa, and South-East Asia, and coordinated academic links with institutions in Malaysia, China, Japan and Cuba. He held various administrative positions at Imperial College London, including Director of Undergraduate Studies, Faculty Director of Teaching, Faculty Dean (Natural Sciences), Dean of Students, and until 2017, College Senior Tutor. He has acted as a crop protection consultant for governments, non-governmental organisations and industry, and as a reviewer for grant awarding bodies in the UK, Greece, Portugal, and the United States of America. He has chaired the Portuguese National Funding Agency's Agriculture, Forestry and Fisheries Research Grant Panel since 2017.
Professor Wright has extensive experience in undergraduate and postgraduate teaching, and research supervision. He was awarded the Imperial College Rector's Medal and Fellowship for Teaching Excellence in 2009, and the Imperial College Medal in 2017. He is a Fellow of Advance HE, and the Royal Society of Biology (RSB); and is a degree accreditation panel member for the RSB. He chaired the IDEA League Life Sciences Working Group from 2001 to 2006, and the Imperial College e-Learning Committee from 2004 to 2008. From 2014 to 2020, he chaired an Academy Trust of two inner London secondary schools, and remains a member of the Trust's Executive and Strategic Management Committees.
Professor Wright has been involved in quality assurance and enhancement in higher education at Imperial College London and externally for over 25 years. He has been an external examiner and reviewer/auditor at a number of UK and overseas universities, and was Chief External Examiner for undergraduate and postgraduate taught degrees at The University of Warwick from 2019 to 2022. Currently, he is an external member and Deputy-Chair of the Programme Approval and Review Committee at Regent College London, and a Higher Education Reviewer for The Quality Assurance Agency for Higher Education in the UK.