Clare PICKLES
Professor of Academic Quality & Enhancement
Higher Education Consultant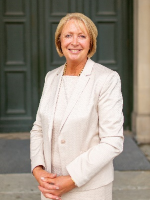 Professor Clare Pickles is a Professor of Academic Quality & Enhancement. She has a broad and extensive career in international higher education spanning over 35 years; she recently retired as Provost of a range of international programmes and over ten thousand students.
Professor Pickles is regularly called upon to advise on aspects of quality assurance and enhancement both within the United Kingdom (UK) and in Asia. She has 20 years of audit experience with the Quality Assurance Agency for Higher Education (QAA) both in England and Scotland and is a former Director of Teaching Quality Enhancement at the University of Bradford. Her broad experience has included the role of Higher Education Adviser for a National Education Service and the membership of the Higher Education Funding Council for England Strategic Advisory Committee. She is also a Fellow of the Higher Education Academy, a former reviewer for the Senior Fellowship status, a former Chair of the Fellowships Committee for the Staff and Educational Development Association and member of the Higher Education Research and Development Society of Australasia.
Professor Pickles was for many years based half time in Hong Kong and half in the UK. She is active in both research and knowledge transfer both in the UK and across Asia. As a result of these activities, she has an extensive international network of higher education colleagues. A former Provost and Doctoral Supervisor and Examiner, she has supervised a range of international doctoral students in the field of higher education and is regularly called upon to externally examine doctoral candidates.