CHOW King-lau
Dean of Students
Professor of Life Science, Chemical and Biological Engineering, and Public Policy
The Hong Kong University of Science and Technology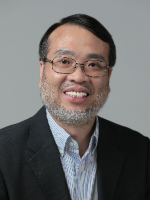 Professor CHOW King-lau is the Professor of Life Science, Chemical and Biological Engineering, and Public Policy at The Hong Kong University of Science and Technology (HKUST).
After graduation from his PhD study in Cell Biology from Baylor College of Medicine, Professor Chow went on as a Belfer Fellow at the Albert Einstein College of Medicine. He has served on multiple internal and external review panels auditing undergraduate and postgraduate programmes for HKUST and other institutions. He has served as a Programme Director for a number of very successful undergraduate and graduate programmes at HKUST, including the Molecular Biomedical Sciences Programme, the Bioengineering Programme and the Individualised Interdisciplinary Major Programme. Administratively, he has served as the Associate Dean of Undergraduates, the Academic Director of the Common Core Programme, and the Director of Interdisciplinary Programmes Office, which oversees the development of a broad range of interdisciplinary divisions and programmes, including Environment and Sustainability, Public Policy, Risk Management and Business Intelligence, Technology Management and Innovation Programmes. He is currently the Dean of Students leading the effort on all student services and educational support. He also heads the Centre for Development of the Gifted and Talented, overseeing different interdisciplinary research and undergraduate activities nurturing gifted students and STEM education in Hong Kong.
Professor Chow's own research focuses on molecular genetics, neural development, synthetic and evolutionary biology. He actively engages in various teaching development programmes, spearheads liberal arts and interdisciplinary education. His teaching spans across a wide variety of subjects at the juncture between science, engineering, social science and humanity with a focus on problem solving and integration. He delivers classes in traditional lectures, group work, exploratory-project-based courses, Massive Open Online Courses and extensive flipped classes at undergraduate and graduate levels, earning him the School of Science Teaching Award and the Michael G. Gale Medal for Distinguished Teaching at HKUST.