CHENG Shuk-han
Chair Professor of Molecular Medicine, Department of Biomedical Sciences and Department of Materials Science and Engineering
City University of Hong Kong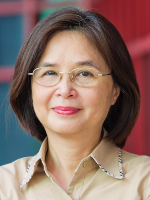 Professor CHENG Shuk-han received her BSc (Hons) from The University of Hong Kong, majoring in Zoology. She received her PhD from the Royal Postgraduate Medical School, which is now part of the Imperial College, University of London. She did postdoctoral training at the Ontario Cancer Institute in the University of Toronto. Before joining City University of Hong Kong (CityU) in 1997, she worked in the Departments of Paediatrics, and Orthopaedics and Traumatology at The Chinese University of Hong Kong.
Professor Cheng has won innovation awards at international exhibitions, including Grand Prix and Gold Medal as a co-inventor for the invention in vivo testing without animal experimentation at the 43rd International Exhibition of Inventions in 2015 and the Gold Medal at the 35th International Exhibition of Inventions, New Techniques and Products of Geneva in 2007. She was the recipient of the 2015 CityU Outstanding Research Award and published 185 peer-reviewed research articles. She has also been awarded the 2017 UGC Teaching Award as a team member and nurtured 29 graduate students and 19 postdoctoral fellows. She has served on the Editorial Board of the journal Nanomedicine: Nanotechnology, Biology and Medicine from 2010-2018. She is an overseas Fellow of the Royal Society of Medicine (London) and Fellow of the Royal Society of Biology (United Kingdom).
Professor Cheng is active in community service. Amongst the roles, she has served on the Advisory Committee on Admission of Quality Migrants and Professional (2016-2022); the Scientific Review Committee of the Hong Kong Laureate Forum from 2021; the Interview Panel of the Hong Kong Scholarship for Excellence Scheme (2015-2021); the Assessment Panel of the Enterprise Support Scheme Innovation and Technology Commission (2015-2021); and on the Advisory Committee on Gifted Education of the Education Bureau (2017-2021). She also serves on the Board of Directors of Nano and Advanced Materials Institute Limited (NAMI) in Hong Kong since 2011, and acts as the chair/co-chair of the Technical Committee in NAMI from 2017.