CHAN Lung-sang
Honorary Professor, Department of Earth Sciences
The University of Hong Kong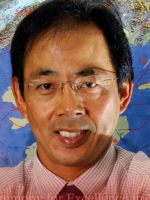 Professor Chan Lung-sang is currently Honorary Professor of the Department of Earth Sciences at The University of Hong Kong (HKU) and Visiting Professor of the Department of Earth and Planetary Science at University of California, Berkeley.
Professor Chan received his Bachelor degree from The Chinese University of Hong Kong and his Master degree and PhD in Geology and Geophysics from University of California, Berkeley. He taught geology at the University of Wisconsin in the United States of America for ten years before joining HKU 26 years ago. His research interests include geology and tectonic history of Hong Kong and South China, and applied geophysics. He was a recipient of the first University Distinguished Teaching Award of HKU in 2010. He served as a member for the Board of Directors of the Hong Kong Academy for Gifted Education from 2012 to 2018 and the Incorporated Management Committee of the Hong Kong University Graduate College from 2018 to 2022. Currently he is a science advisor to the Hong Kong Observatory and an expert advisor to the Hong Kong Science Museum.
Professor Chan is experienced in and knowledgeable about academic and curricular systems, as well as learning pedagogies. He served on the University's Steering Committee of Academic Reform, contributing to the establishment of HKU's enabling curriculum framework, the credit transfer system, the Common Core Curriculum, the assessment policy and the capstone requirements of the University. He was also a member of the UGC's Task Force on Outcome-based Approaches in Student Learning. Regarding pedagogical developments, he developed a learning scheme by applying the problem-based learning approach to learning in the field setting, and occasionally undertook project-based learning training workshops for university and school teachers.
Professor Chan was the College Principal of HKU SPACE Community College and HKU SPACE Po Leung Kuk Stanley Ho Community College (HPSHCC). He led the HKU SPACE Task Group to prepare for the QAC Audit on Sub-degrees Operations in 2017. He participated in an International Quality Review of the School by an international panel, as well as the accreditation of two new HPSHCC awards by the Hong Kong Council for Accreditation of Academic and Vocational Qualifications in 2021. He was also instrumental in the accreditation of a new BSSc programme offered in 2017 by the Centennial College, a member of the HKU Group.