Anirban MUKHOPADHYAY
Associate Provost (Teaching and Learning)
The Hong Kong University of Science and Technology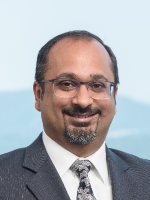 Professor Anirban Mukhopadhyay is the Associate Provost (Teaching and Learning) at The Hong Kong University of Science and Technology (HKUST). He joined HKUST in 2004 and is currently the Lifestyle International Professor of Business and Chair Professor of Marketing at the School of Business and Management. Previously, he served as the Associate Dean (Undergraduate Studies) of the School of Business and Management, in which capacity he led the Undergraduate Academic Affairs and Advising Team and task forces and started new initiatives in reviewing and improving the School's undergraduate programs. He has also served as the Acting Director and Associate Director of PhD/MPhil Programs of the School, the Chair of the School's Franklin Prize Committee for Teaching Excellence, the Associate Director of the HKUST Institute for Emerging Market Studies, and the Chair of the Committee on Faculty Diversity and Early Career Support, among other administrative engagements.
Professor Mukhopadhyay is a consumer psychologist whose research examines the interplay between consumers' lay beliefs, emotions, and self-regulatory decisions, with substantive interests including food-related decision-making, field experimentation with policy implications, and the interplay of consumption and subjective wellbeing. He is the Editor-in-Chief of the Journal of Consumer Psychology from 2018 to 2020, and has previously served as the Co-Editor and Area Editor of the Journal of Consumer Psychology and the Associate Editor of the Journal of Marketing Research. He is a past winner of the Early Career Award of the Society for Consumer Psychology and has been recognised as a Young Scholar and an MSI Scholar by the Marketing Science Institute.
Professor Mukhopadhyay holds a B.Sc. (Hons. in Physics) from St. Stephen's College, Delhi, an MBA from the Indian Institute of Management Bangalore, and a PhD in Marketing from Columbia University. Prior to joining HKUST, he worked at Standard Chartered Bank from 1997 to 1999 and the faculty of the University of Michigan in Ann Arbor from 2007 to 2009.