Hennie YIP Hoi-yan
Senior Manager and Strategic Lead (Learning Enhancement and Design)
Lingnan University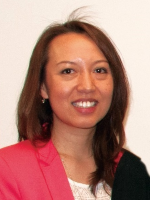 Dr Hennie Yip has over twenty years of experience in the field of educational development and research, with a focus on technology-enhanced learning (TEL) implementation to support institutional-wide learning and teaching activities. She graduated with a BSc in Chemistry, MSc in Multimedia Computing from University of Central Lancashire, and PhD in Technology Enhanced Learning and E-Research from Lancaster University in the United Kingdom.
Dr Yip has been involved in the use of technologies to support learning and teaching since 2001, and has significant experience working with teachers and senior managers in higher education institutions in the United Kingdom and Hong Kong. Her work focuses on the institutional-wide implementation of TEL to support student learning as well as designing professional development activities to engage and develop staff in their adoption of online and blended teaching approaches. She has a strong emphasis on partnership and collaborative work between different professional services to achieve a coherent and effective approach from planning, development and implementation to help support the overall student-learning experience.
Internationally, Dr Yip is a Senior Certified Member, as well as a Certified Members of the Association for Learning Technology Assessor of the Association for Learning Technology in the United Kingdom.